Testimonials
We would love to post your testimonial regarding your experience with us here at
"B & G's Pugs"!
Please email your testimonial to bgspugs@gmail.com
Thank you!
Be sure to check us out on facebook for more testimonials, referalls, and pictures of our past puppies!
---
Thank you for our pug puppy, Ruby. She's everything we expected. We just love her. Only 10 weeks old, and she's already learned to sit, comes when called (most of the time), and is doing a good job with potty training. We think she's adorable, smart, and has a great personality. We want to thank you for making the whole process fun. We absolutely loved finding Ruby's weekly picture online from birth to 8 weeks. It was exciting to watch her grow.

Now our daughters are both on your waiting list for pug puppies. Love it!
Janet and Bob Nichols
Ruby's family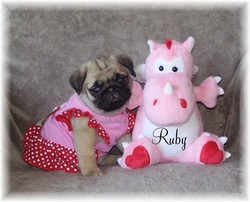 To all dog lovers: B&G English Bulldog & Pugs is the breeder to go to if you want a healthy attentive and loving pup. Througout the course of choosing a puppy Becky was very helpful. From birth until you pick up your puppy Becky kept you updated, all along posting pictures of puppies through all stages of growth. If our family decides to get anymore pugs this breeder would be our first pick. All puppies are healthy and you can definetly tell they were raised in a loving home. Thanks again B & G English Bulldogs & Pugs for such a wonderful addition to our family!!
Sincerely, Diana Lange-Fonk
Sebastian's Family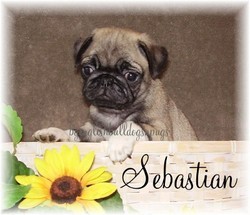 ~*~*~*~*~*~*~*~*~*~*~*~*~*~*~*~*~*~*~*~*~*~*~*~*~*~
To all future pug owners! From the minute we viewed your site we were so impressed with all the information and pictures of the puppies we just had to get one! Becky was so kind and courteous on the whole purchasing experience! We have had Reilly for 5 days and we are so in love with her! So thank you Becky for everything and for our precious Lil' Pug! Reilly's Family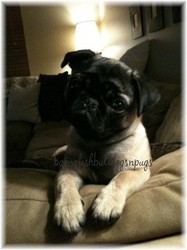 ~*~*~*~*~*~*~*~*~*~*~*~*~*~*~*~*~*~*~*~*~*~*~*~*~*~
Thank you so much for our little Leo. He is a fantastic pug and we adore him. Everyone from the vet to family members love Leo and how friendly he is. Thank you for socializing him with other dogs and young kids at an early age. He has the perfect curly pug tail and wrinkles. He is such a sweet boy and we love him so much. I highly recommend B&G English Bulldogs and Pugs as an organized and friendly breeder. Becky answered all of our questions along the way and always sent prompt updates and photos. We cannot thank you enough!
Sincerely, Jackie & Ryan Leo's Family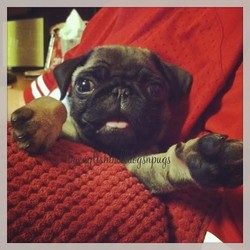 ~*~*~*~*~*~*~*~*~*~*~*~*~*~*~*~*~*~*~*~*~*~*~*~*~*~
Thank you Becky for providing us the opportunity to add to our family two of the cutest pugs every, Buddy & Daisy Mae! The process from beginning to end was well worth the wait. Your weekly updates on the website and Facebook of adorable snapshots of them while they grew, along with the chat visits to share any questions or concerns I had were all appreciated. When I had decided I wanted a new pug addition to our family I did some research and found your website. I was cautious at first, but after our conversations I realized you were the right breeder for us. You were always prompt, helpful and the love and care you have for your babies was evident. The hardest part was the wait! But I knew it would be worth it and it was. So much so we doubled our joy. The attributes one wishes to find in a pug can be found in your litters. Sweet personalities, cute little squished faces, a double curl tail that relaxes when they do and snorts to last a lifetime. Each pug is more precious than the next and we couldn't' have asked for a better breeder to work with. We love our new family members and want to send you a BIG THANK YOU! Jim & Sue Robl Buddy & Daisy Mae's Family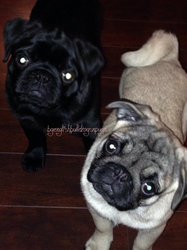 ~*~*~*~*~*~*~*~*~*~*~*~*~*~*~*~*~*~*~*~*~*~*~*~*~*~
We are proud owners of two healthy pugs from Becky. Becky is a caring, honest, and loving pug breeder. When it's time for another pug, we will go to Becky! Highly recommend! Simba & Zoey's Family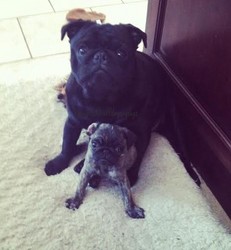 ~*~*~*~*~*~*~*~*~*~*~*~*~*~*~*~*~*~*~*~*~*~*~*~*~*~
Stella is doing great. I know I picked the right place to get a puppy from when the vet comments how perfect she is. She was a "lady pug" for Halloween and her sister Miley was a spider. For Christmas they have matching Santa outfits but it's still a little big on Stella. Thanks Again! Stella's Family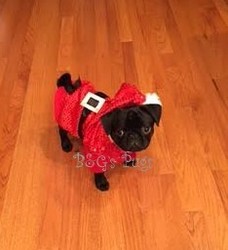 ~*~*~*~*~*~*~*~*~*~*~*~*~*~*~*~*~*~*~*~*~*~*~*~*~*~
Becky,
Thank you for our beautiful pug puppy Cocoa. She is everything we expected and more! We appreciate the updates and absolutely adored the photos you sent. Becky you made this whole experience just wonderful with answering my endless questions very quickly. Thank you also for opening your home to us to come meet her and pick her up. We know that she is a very happy and healthy puppy and is also welll socialized. Thank you also for he goodies you sent home with her. I feel that you went above and beyond and truly care about these puppies and their parents. We will definitely be getting our next fur baby from you! "Cocoa's Family"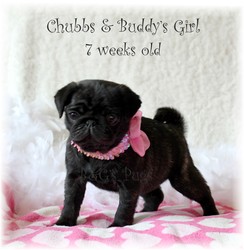 ~*~*~*~*~*~*~*~*~*~*~*~*~*~*~*~*~*~*~*~*~*~*~*~*~*~
Our experience getting our pug Tullie was wonderful. We put in our deposit and kept watching the weekly pictures on Becky's website and FB page. We knew we wanted a girl but wouldn't know which one until the other families on the list chose their puppy. When it was our turn, we surprised our daughter with a trip to Becky's house to choose. Becky (very patiently!) allowed us to sit with the puppies and take our time making sure the right pug chose us. At pick up time, she had her ready to go with a fun bag of toys.
At 10 months old, Tullie is a great addition to our family (that already included 2 senior pugs). We get a lot of comments about her soft, brindle coat. She has a sweet, spunky personality. Smart and stubborn like the typical pug personality. We are all looking forward to getting our next puppy from Becky. She loves her pugs and they're obviously well loved and taken care of!
-Alicia, Jim and Emilee