Available Adults
~ The hardest part of breeding is letting go ~
There comes a time when it is necessary to retire and re-home some of our breeding dogs. Though it is difficult to think about parting with a dog that has been a part of our family and breeding program, it is necessary in continuing our breeding program.
Our retired adults are only placed in quiet adult homes with NO young children, No other pets, and someone that is home 24/7.
Our retired adult pugs are gentle, quiet, and love to just sleep on a comfy chair and be petted, spoiled, and loved. They would make a great companion for a retired person/couple.
~*~*~*~*~*~*~*~*~*~*~*~*~*~*~*~*~*~*~*~*~*~*~*~*~*~*~*~*~*~*~
Peaches will be looking for a loving home to retire and spend the rest of her years being spoiled and loved.
She will be 5 in Feb., potty trained, crate trained, up-to-date on shots, and good with everyone and other pets.
She would be ready to leave as early as January if you have her spayed or wait until I have her spayed sometime in early 2020.
APPROVED HOME ONLY
Please read all of the above before contacting me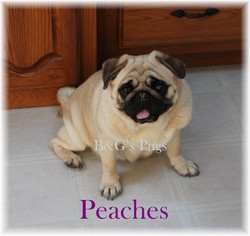 PENDING FOR EMILY & FAMILY
Jazzmyn is looking for a new home. She was born 11/16/18. I owned her sire for 5 years...I sold him to a breeder in Florida and that is where Jazzmyn came from. I had her flown up here in hopes to add her to our breeding program however I feel she is too small for my program. She weighs around 13 lbs. She is up to date on all shots, wormings, regular heartworm treatment, and is microchipped. She is a very active girl that does very well with other dogs and will play for hours, but also likes to have cuddle time with her human family too. She is not 100% housetrained yet, but she is smart and I believe will catch on quickly. She did have an umbilical hernia that our vet has recently checked and determined is closed and just fatty tissue is present making her belly button an "outie".
Pet home price is $850 (must be spayed)
Breeding price with AKC papers $1800